A few of you may have heard (or seen) me mention a Project long in the dreaming, that I now wish to complete within the next year or so.
About 5 years ago, when I first began to sing professionally, I reached out to my friend Claudia Morawetz, and asked her what music that her father, Oskar Morawetz, had written, would be suitable in my voice.  She promptly sent me an envelope (I still have it; it is postmarked 2015-01-02) with a few selections from her library...among them, a copy of "From the Diary of Anne Frank".     I was immediately hooked on the idea that I MUST do something with this music ~ it seemed to beg me to bring it to life.   Ever since I remember being able to understand compassion and sympathy for those who suffered during WWI, in particular the fate of the Jewish peoples who were subjected to unbearable torture and humiliation, I have felt very strongly that some day, I must at least do a small thing to commemorate and to bring awareness, so that people will never have to endure it again.  I know...this is a very naive and almost futile thing to think...but in my heart, I wish so much for peace and understanding and acceptance for the world to embrace.
I brought the music to one of my Coaching sessions with pianist and coach-extraordinaire Brahm Goldhamer and he agreed that it would be a very important and interesting work to do, and that it would be suitable in my voice.  Even though it has mostly been performed by Mezzo-Sopranos, it clearly says "For Soprano or Mezzo-Soprano" on the cover.  Brahm felt that my Soprano voice would lend itself beautifully to the timbre of a young girl's voice...that of Anne Frank.  Brahm agreed to coach me on the music over the next year or so, and also to be the Pianist for the Project.   Brahm will undoubtedly help me with every nuance needed, in interpreting this work.  
WOW! I was so excited that I began thinking about what the possibilities were of pulling it all together.   I had connected some time previously with a gentleman who owns a Record Label out of Baton Rouge, Louisiana, Mr. Victor Sasche.  In our first conversations, when I was looking for a label to support the Art Songs that I was recording, Victor said that his preference would be something that is unique, not overdone... some time later I got in touch again, with the idea of Recording Oskar Morawetz's piece, and he agreed.   The record label is Centaur Records.
In a visit last Fall from Claudia, we were discussing my plans and how I was looking at approaching everything.   I told her about Brahm and about Centaur Records, and that's when she stated matter-of-factly, that I could not record it with just piano... it most certainly needed an Orchestra in order to do it justice.  At once  I felt a little defeated...how could I, a relatively unknown Soprano, find an Orchestra that would make this kind of commitment, and want to work with me?  I only had a few connections.   I began to think of an alternative; I may not find a full orchestra, but I had curated a few concerts in the past and I knew I could probably do it with a smaller ensemble.  I promised Claudia it would not be with 'just piano', and off I went...
As I learned more and more about my voice, and improved my ability to sing, to emote and colour my sound, and having embarked on a Music Degree at York University, I became more confident that I could sing this extremely difficult music.  So in November of last year (2019), I met with Conductor & Artistic Director David Braun.   Asking him if he would be interested in collaborating, he immediately said yes.   I had my second 'recruit', someone with immense talent and also the necessary expertise and connections to help put together an ensemble!   I felt the stars aligning. 
The timing on when I wish to bring this Project to fruition was Claudia's idea.  She has tirelessly promoted her Father's work, contacting Orchestras around the world and suggesting works based on events and important dates.  Claudia mentioned that in 2020, it will be the 75th Anniversary of the end of WWII, and the Liberation of the Concentration Camps.  It seemed reasonable that I could learn this work with more than a year to spare, and in time to align with this milestone date.   
Now, more than ever, our Jewish Communities are being targeted by people who have grown up in hatred, or who have never been properly educated in the history of the world.  I wish to add my voice to those who cry out against persecution, against racism, against Anti-Semitism, against conflict of any kind.  We CAN make the world a kinder, gentler place.   I think of the words that Anne Frank wrote: They hold an incredible amount of maturity for a girl only aged 15.  In this selected Chapter, she writes about having had a vision of her friend Lies, who had been captured.  She sees Lies in dirty clothes and with the large eyes of those who are experiencing starvation.  Anne says fervently that she wishes she could rescue Lies, and that if she found her, she would look after her.   Anne's depth of understanding for the suffering, and the way in which she wishes to even trade places with Lies because she feels more deserving of the punishment, is a crushingly painful and selfless statement.  She wishes Lies to be 'brought back to US', not just to her, another example of this young lady's selflessness.  
The irony involved is immense:  They do meet in real life, not just a dream.  After Anne ultimately is captured, Anne and Lies face each other through a barbed wire fence, and exchange a few words.  Days later, Anne died.  Soon after that, the camps were liberated and Lies went free.   To my knowledge, the real Lies Goosens, Hanneli Pick-Goslar, born in 1928, is still alive today, in Jerusalem.
In November of 2018, I was interviewed by Canadian Jewish News for an article about the Project, to put in their paper.  Ruth Schweitzer took the time to speak with me and to my delight, the article has now been published.  You can read more about it here.  
Here's a great snapshot of my Uncle Victor Braun with Oskar Morawetz, taken in 1978.   I was at this party, only 14 years old!   It was very nice of the Morawetz family to have invited me that evening, to surprise me with Uncle Vic's visit!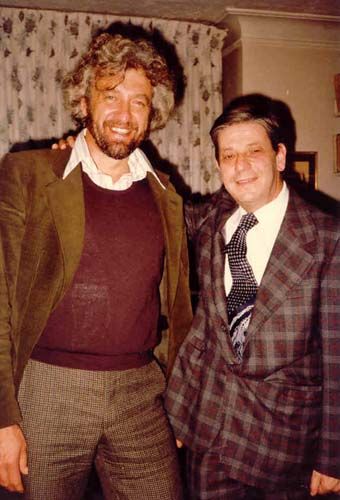 2019/2020 List of Supporters
Kira Braun
Irma & Heiner Lubbe
Ken Campbell
Sam Chiappetta
Lally Baring-Gould
Anne Klein-Braun
Eleanor Lawrie
Jim Eles
John Lalousis
Fiona Nicklin
Sol Younan
Jerry Weiss 
Rita Richards
Patricia Halton-Langille
Maria Frohlich
Ingrid Schoning
Robin Salahub-Vitez
Elissa Stavro
Joel Monson
Antonio Talae
Sergio Simone
Liz Taylor
Michelle McKie
Voula Diamantakos
Melissa Garnes
Doug Miller
Anita Minov
Leona Rogers
Gillian Taylor
Deb and John Miller
Jessie Greenlay Peters in Loving Memory of Vic Peters and Sharon Baker